Sale
Zoom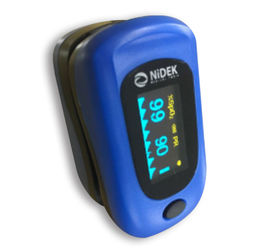 Nidek Pulse Oximeter
Pulse Oximeter- 6900
Brand:
Nidek
Product Code:
Pulse Oximeter
Availability:
1
WHAT IS A PULSE OXIMETER?
A pulse oximeter is a non invasive device that measures the oxygen saturation of a person's blood as well as the pulse rate.
How does a pulse oximeter work?
A fingertip pulse oximeter has 2 sides that attach to your finger. One side of the device painlessly shines 2 beams of light of different wavelengths--a red beam and an invisible infrared beam--through your finger. The other side of the oximeter has a receiver that detects these beams of light. Oxygenated and deoxygenated blood cells absorb these lights at different rates. The infrared light is absorbed more readily by haemoglobin that contains a high level of oxygen, while the red light is allowed to pass through. The red light, however, is absorbed more readily by hemoglobin that contains little oxygen, while the infrared light is allowed to pass through. The change in the reception of the 2 beams of light is used to calculate both the oxygen saturation level of your blood and your pulse rate.
What can i do to get a more accurate reading?
Here are a few things you can do to get a more accurate reading:
Stay still. Movement can affect your reading adversely.
Make sure your hands are warm. If your hands are cold, you may not have an adequate circulation, which can affect your reading.
Keep your hands dry, since excessive amounts of lotion or water can affect your oximeter reading.
Wait 8 seconds after turning on the oximeter for the oximeter to obtain an accurate reading.
Keep your oximeter away from high frequency electrosurgical interference and defibrillators.
What maintenance is required on pulse oximeter?
Replace the batteries when the low battery indicator is on.
Clean the surface of the oximeter before it is used in diagnosis.
Remove batteries if oximeter is not in operation for a long period of time.
Keep oximeter away from extreme heat and cold, as well as humidity.
How do i clean my oximeter?
Please use a soft cloth dampened with 70% isopropyl alcohol or medical alcohol to clean the rubber touching the finger inside of the oximeter. Do not pour or spray and liquids onto the oximeter, and do not allow any liquid to enter any openings in the device. Allow the oximeter to dry thoroughly before reusing.
What is SpO2?
SpO2 is a general name for a medical examination, which performs a periodical and repetitive Pulse Oximetry checks. The SpO2 examination can be taken in a medical facility, or at home, and in some devices, it can be pre-programmed to take "snap-shots" of the patient's oxygen level in designated intervals.
Should I turn the pulse oximeter ON, before or after I put it on my finger?
The reading process will be shorter, if you first put the device on your finger and then turn it on.
After I start the Pulse Oximeter, I only get dashes. Why is this so?
This is normal for the first 20 seconds, if it takes longer to get a reading, it may be indicating that the unit is too tight on your finger, causing impairment or restriction of the circulation. Pull your finger out a little and restart the unit. If the second try is unsuccessful, repeat the insert/ start process on a smaller finger. On people (or children) with very small fingers, try using the thumb.
Can I put it on a wet (or bloody) finger?
No. These models are not water resistant, and exposure to excessive moisture will damage the devices and void the warranty. Wipe all moisture from your finger before inserting it into the flexible thimble. If the finger is injured or bleeding- use a different finger.
The Fingertip Pulse Oximeter is intended for measuring the pulse rate and functional oxygen saturation (SpO2) through patient's finger. It is applicable for spot-checking SpO2 and pulse rate of adult and pediatric patients in homes and clinics.
Write a review
Your Name:
Your Review:
Note: HTML is not translated!
Rating:
Bad
Good
Enter the code in the box below: