Sale
Zoom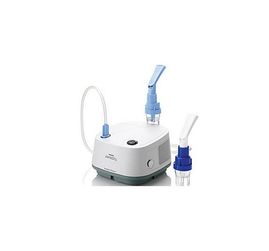 Philips InnoSpire Essence Nebulizer
Philips InnoSpire Essence Nebulizer
What is a nebulizer?
A nebulizer is a breathing machine used to treat lung conditions such as asthma, cystic fibrosis, and other respiratory illnesses. They administer medication in the form of a mist that is inhaled into the lungs and are often used in situations where using an inhaler is difficult or ineffective.
Are there any accessories for my nebulizer?
Nebulizer mask: A nebulizer mask fits over the mouth and nose to deliver medication directly to the airways. Nebulizer treatments require a mask or mouthpiece.
Nebulizer filters: These should be changed regularly in order to ensure the air you're breathing in is clean and that normal air contaminates do not get into your nebulizers. Make sure to purchase a filter that's compatible with your nebulizer. Using your nebulizer without the proper, clean air filter will cause normal air particles and contaminates to ruin your compressor.
Rechargeable nebulizer battery pack: If you have a portable nebulizer, a battery pack will ensure that your nebulizer is ready for use at all times.
Replacement power adapter: Tabletop nebulizers need to be plugged in order to function.
Carrying case: A carrying case helps protect your investment and makes travelling with a nebulizer more convenient. Many have pockets to hold smaller parts like masks and mouthpieces.
What medications are used with a nebulizer?
There are different types of prescription asthma medications that can be used with an aerosol compressor (nebulizer). These include:
Quick-relief medications that are used to reduce airway inflammation, bronchial swelling, and overproduction of mucus.
Long-term control medications that help manage symptoms on a daily basis.
Are there any tips for fast and easy nebulizer treatments?
Be sure your filter is clean. A dirty filter will put unnecessary strain on your compressor and can slow down your treatment.
Be sure your nebulizer set is new. Disposable sets, which come with most compressors, are meant to last up to 10 treatments. Reusable nebulizer sets can last up to 6 months. Be sure you keep your nebulizer set fresh and new.
Consider getting a portable nebulizer so you can take your treatments on the go.
When should i replace my nebulizer?
If you use a nebulizer to manage your asthma or another medical condition, you might be wondering when you'll need to replace your compressor or other components. Nebulizers last longer when properly cared for, and proper care involves checking the air filter frequently and changing it when necessary. Because a dirty air filter makes the compressor work harder, keeping it clean will extend the life of your machine.
Active venture system for faster delivery :
Essence works efficiently with SideStream nebulizers that feature an active Venturi system and provide air flow in addition to that supplied by the compressor, resulting in faster drug delivery and shorter treatment times. They are easy to use with fewer parts to assemble or clean than other conventional nebulizers. SideStream's unique design provides consistent delivery of medication time after time.
Compact and stylish to blend in at home :
The stylish design incorporates a handset docking station, filter and power cord and blends gracefully into the home environment. It is covered by a 5-year warranty and is compliant with the international safety and essential performance standard IEC 60601-1 third edition and its amendments.
Write a review
Your Name:
Your Review:
Note: HTML is not translated!
Rating:
Bad
Good
Enter the code in the box below: