Sale
Zoom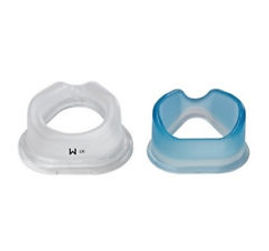 Blue Gell Nasal Cushion For TRUE BLUE Mask
blue gel nasal cushion for True Blue mask
These Cushion are designed for use with all TrueBlue Nasal CPAP and BiPAP Masks.
The TrueBlue's Premium Blue Gel Cushion works together with the thin, form fitting outer silicone Comfort Flap to create a personalized, self-adjusting seal.
The size of the nasal cushion is found by turning the mask so the elbow is facing the user.
Once the mask is in place, turn the mask to view the left side of the cushion.
The size will be visible from within the embossed circle. The letter placed at the top of the circle indicates the size of the cushion. The letter and number located at the bottom of the circle does not correspond with the size.
Only certain size cushions will work with certain mask frame sizes
Write a review
Your Name:
Your Review:
Note: HTML is not translated!
Rating:
Bad
Good
Enter the code in the box below: