Sale
Zoom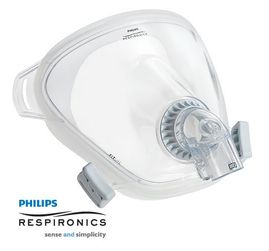 Philips FITLIFE FULL FACE COVER MASK
Philips FITLIFE FULL FACE COVER MASK
Price:
Rs.10,200
Rs.8,500
Brand:
Philips Respironics
Product Code:
Philips Respironics -FITLIFE Full Face Cover Mask
Availability:
2
Field One:
SIZES AVAILABLE LARGE,SMALL
How to choose a CPAP mask?
It's important to choose a CPAP face mask that effectively treats your individual sleep apnea while maximizing your comfort.
Talk to your doctor about your unique needs to determine your ideal fit.
How should i care for my mask?
Masks should be washed daily with warm water and gentle soap or baby shampoo. Let the mask air dry. Never use antibacterial soap as it will break down the silicone of the mask cushion. Avoid soaps that include lotion which can coat the mask and cause it to lose its seal.
How can i find replacement parts for my CPAP mask?
Replacements parts such as: mask cushions, headgear, headgear clips, and others are available for many masks.
For more information on masks and online order check our website : www.medikart@co.in.
What causes mask leaks?
Air leaks can be caused by masks that are too big, too old, or simply the wrong style.
Air leaking into the eyes is usually an indication that the mask is too big (long or wide) as are leaks at the base of the nose. Leaks may also occur under the nose due to facial hair.
How do I know if the mask I want will work with my machine?
All of the masks are standardized so that any mask will connect with any machine.
I need replacement parts for CPAP masks and machines; can I buy them from Medikart?
We offer CPAP mask, CPAP machine packages as well as CPAP parts and accessories for your existing CPAP equipment.
I purchased a mask from you and it does not fit. Can I exchange it for another size?
Unfortunately, we cannot accept the return of any mask that has been opened. The FDA (Food and Drug Administration) has imposed strict guidelines regarding cross-contamination of medical equipment, and the resale of used masks is prohibited. Once a mask is removed from its original packaging, it is considered to be "used" by the FDA
Does nasal mask works with BIPAP machine?
Yes, a BIPAP user can use nasal mask if he or she has Claustrophobia.
FITLIFE
The FitLife total face mask was designed to provide hard-to-fit patients with the comfort they deserve. Because this mask is easy to fit, use, and seal, it gives you the assurance you need to help your patients become compliant with their therapy.
A comfortable mask with attractive features.
The FitLife offers a robust seal around the less pressure-sensitive perimeter of the face to avoid disrupting the wearer?s view. Its advanced headgear with easy-to-use snap clips and EZ Peel tabs simplify application and removal. Because pressure and flow inside the mask are equalized, eye irritation is minimized. The built-in radial diffusion leak ports deflect exhaled air away from the bed partner and provide quiet operation..
And the right fit for your most challenging patient needs
This easy-to-fit mask provides the seal and comfort your patients need to work toward compliance, something so often thought of as difficult for patients who present fitting challenges. Available in two sizes, our large size fits most, providing the quick, easy, and effective solution that you expect only from Philips Respironics.
Write a review
Your Name:
Your Review:
Note: HTML is not translated!
Rating:
Bad
Good
Enter the code in the box below: