Sale
Zoom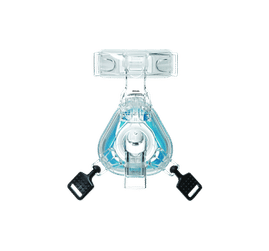 Philips ComfortGel Blue Nasal Mask
Philips ComfortGel Blue Nasal Mask
Brand:
Philips Respironics
Product Code:
Philips Respironics -ComfortGel Blue Nasal Mask
Availability:
3
Field One:
SIZES AVAILABLE :- LARGE,MEDUIM,SMALL
This product has a maximum quantity of 3
How to choose a CPAP mask?
It's important to choose a CPAP face mask that effectively treats your individual sleep apnea while maximizing your comfort.
Talk to your doctor about your unique needs to determine your ideal fit.
How should i care for my mask?
Masks should be washed daily with warm water and gentle soap or baby shampoo. Let the mask air dry. Never use antibacterial soap as it will break down the silicone of the mask cushion. Avoid soaps that include lotion which can coat the mask and cause it to lose its seal.
How can i find replacement parts for my CPAP mask?
Replacements parts such as: mask cushions, headgear, headgear clips, and others are available for many masks.
For more information on masks and online order check our website : www.medikart@co.in.
What causes mask leaks?
Air leaks can be caused by masks that are too big, too old, or simply the wrong style.
Air leaking into the eyes is usually an indication that the mask is too big (long or wide) as are leaks at the base of the nose. Leaks may also occur under the nose due to facial hair.
How do I know if the mask I want will work with my machine?
All of the masks are standardized so that any mask will connect with any machine.
I need replacement parts for CPAP masks and machines; can I buy them from Medikart?
We offer CPAP mask, CPAP machine packages as well as CPAP parts and accessories for your existing CPAP equipment.
I purchased a mask from you and it does not fit. Can I exchange it for another size?
Unfortunately, we cannot accept the return of any mask that has been opened. The FDA (Food and Drug Administration) has imposed strict guidelines regarding cross-contamination of medical equipment, and the resale of used masks is prohibited. Once a mask is removed from its original packaging, it is considered to be "used" by the FDA
Does nasal mask works with BIPAP machine?
Yes, a BIPAP user can use nasal mask if he or she has Claustrophobia.
Philips Respironics developed ComfortGel Blue, set out to create a mask that more of your patients would naturally embrace. That's why combined the best of our time-proven gel masks with new, highly regarded enhancements that don't just create a new mask…they establish a whole new level of mask performance.
Combined performance
ComfortGel Blue was designed to take full advantage of the Philips Respironics System One Resistance Control. Working together as a system, the device recognizes when adjustments in therapy are required and compensates to deliver optimum PAP therapy – and the highest possible level of comfort.
It all adds up to help you fit 100% of your patients, 100% of the time.
features :
· Premium forehead pad improves comfort and fit
· Silicone Comfort Flap improves seal and can be removed for easy cleaning.
· New generation blue gel technology nasal cushion is soft and conforms to patient's face for added comfort.
· Ball-and-socket headgear attachments enable free movement and easy mask removal.
· StabilitySelector raises and lowers for proper mask angle, seal, and fit.
· Angled exhalation micro ports assure quiet operation and redirect air away from a bed partner.
· Two 360º swivels allow tubing to move more freely.
· Comes standard with Respironics' one-size-fits-most Premium Headgear. This unique headgear with EZ release tabs easily adjusts in four places for a secure, custom fit. The Premium Headgear evenly distributes tension, adds stability and helps to prevent mask leaks.
Write a review
Your Name:
Your Review:
Note: HTML is not translated!
Rating:
Bad
Good
Enter the code in the box below: